Limiting the sale of weapons or withdrawing forces from Saudi Arabia are two of Washington options being considered to punish Riyadh for reducing oil production.
The Saudi -US Arab relationship seems to have fallen to the bottom after the OPEC+oil production cut, the Saudi -led organization.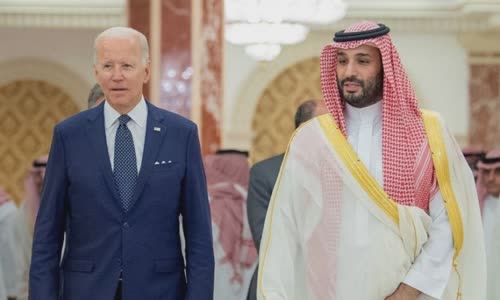 On October 12, Saudi Arabia reflected by announcing the information that the Biden government asked them to postpone the decision to cut production in a month, seemingly in order to postpone its negative impact to the National Assembly election.
US President Joe Biden (left) and Crown Prince Mohammed bin Salman in Saudi Arabia in July. Photo: Reuters.
The White House immediately responded that Saudi Arab is trying to change the nature of the problem.
Analysts say the White House and Democrats hold some tools that can punish and cause Saudi Arabia to suffer the consequences of President Biden's statement, although their impact and feasibility still have many paintings.
Through Nopec bill
Almost immediately after the decision to cut oil production, the White House said that President Biden will consult the National Assembly on additional tools and measures to reduce OPEC's control at energy prices.
This bill is aimed at breaking the control of some countries with oil prices by forcing OPEC countries to comply with the anti -monopoly law.
If NOPEC is approved, the US may sue OPEC members and its oil companies with accusations of collusion to push oil prices, violating the anti -monopoly law.
A committee of the US Senate passed a bill in May. But to become a law, it still needs to be approved by both the Senate and the House of Representatives and was approved by President Biden.
A survey of the Morning Consult and Politico public opinion survey showed that less than 50% of US voters supported Nopec, of which more than half were democratic party members and 2/5 were Republican members.
Analysts assessing that the Nopec bill will also cause the US to suffer certain consequences.
I think it will create a negative impact on the oil and gas industry, making all forms of joint ventures and investing with national oil companies more complicated, Karen Young, a scholar
Some people are concerned that NOPEC can lead to OPEC producing oil massively, causing oil prices to decrease to the US oil industry, where high exploitation costs can be stopped because there is no profit.
The American oil Institute, the Trade Association in the natural oil and gas industry, strongly opposed the NOPEC bill, saying that it will be disadvantaged to the national, military and commercial aspect of the country.
Limit the sale of weapons to Saudi Arabia
The US Senate Committee Chairman Bob Menendez last week called for freezing immediately between Washington and Riyadh, which stopped selling to Saudi Arabia without weapons to reverse the interests and American citizens in Central
Some politicians supported this proposal, others expressed concerns, saying that it would only push Saudi Arabia closer to Russia.
The United States is the world's largest exporter of weapons with revenue from selling weapons abroad to an average of US $ 47 billion in fiscal year 2021. According to a report from the Stockholm International Peace Research Institute last year,
Ordinary Americans do not know that this is a lucrative market for the weapons industry.
Expert Karen Young believes that the plan to stop selling weapons to Saudi Arabia is hard to come true.
According to observers, Saudi Arab has been trying to diversify its supply of weapons and may be ready to buy weapons from other places if the US tightens.
Saudi Arabia has a long -term relationship with England, France, China and is also establishing relations with Brazil, South Africa and many other countries, analysts Ali Shhabi.
However, analysts also agree that Saudi Arabia is unlikely to replace the entire US defense infrastructure in the medium term, because the country is dependent on American Patriot missile complexes.
Draw US forces from Saudi Arabia and UAE
The three Democratic Party MPs proposed to withdraw US stations from Saudi Arabia and the United Arab Emirates (UAE), ending the US's protection efforts to the Gulf partners.
Both countries rely on the US military presence in the Gulf to protect security and oil fields, declaring from the three Democratic Party MPs.
About 3,500 US military employees are giving in the UAE.
However, experts believe that the US is hard to completely withdraw its troops from UAE and Saudi Arabia, because this move will leave a space in the area where US rivals like Iran, China or Russia are ready to be like that.
When Americans talk about security in the Gulf, many people forget that it is to protect the free flow of oil and gas coming from here, not the Saudi royal defense, Shihabi said.
Other options
Experts believe that all the drastic choices that American politicians are considering to punish Saudi Arabia is hard to come true.
The Biden government is pushing this tension far for political benefits and that is really dangerous, Young said.
The United States could end the confrontation with a gentle statement about selling weapons and a reprimand, she added.
Des Roches expert said that the US may also consider stopping high -level meetings with Saudi Arabians for a period of time.
There is a reason why this relationship has not been interrupted since President Franklin Roosevelt, he added.
The decision to cut Saudi oil's oil could be a water drop, rushing efforts to improve the relations of the President of the President of Biden.
Saudi Arabia strengthened relations with Russia and agreed to reduce OPEC+output, Christmas diplomatic in Washington's efforts to isolate Moscow.