Japan deployed tens of thousands of security guards to ensure the safety of the national funeral former Prime Minister Shinzo Abe took place on September 27 in Tokyo.
National funeral former Japanese Prime Minister Shinzo Abe is scheduled to take place at 14:00 on September 27 (12 o'clock in Hanoi) at Vo Dao Nippon Budokan, the center of Tokyo Capital.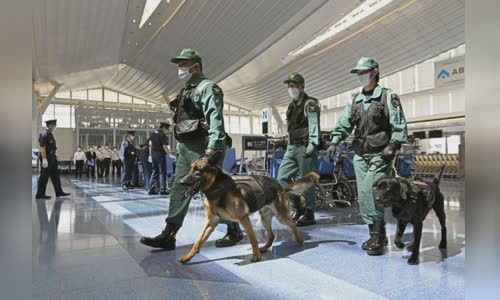 This is the first major event after Japan applied new security rules after the assassination of Mr. Abe.
Police officers and professional dogs recently patrol at major train stations and Haneda airports in Tokyo to ensure safety.
Police and dogs patrolled in Tokyo before the funeral ceremony of Mr. Abe.
The funeral committee spends a separate area for people to place flowers to commemorate Mr. Abe at the nearby Kudanzaka park.
The people who visited Mr. Abe were required to prepare flowers and leave nothing else.
The funeral of Mr. Abe is expected to last for 1 and a half hours.
Prime Minister Fumio Kishida, Chairman of the Funeral Committee, then expressed the memorial of Mr. Abe.
Traditionally, Nhat Hoang Naruhito, Queen Masako, Emperor Akihito and Dowager Michiko will not attend the funeral but send representatives to visit.
The ceremony ended with the offering of Abe's ashes and put the memorial wreath.
A resident of the flower memorial next to the picture of former Japanese Prime Minister Shinzo Abe in Tokyo on July 15.
Mr. Abe was assassinated on July 8 while speaking in the Western City of Nara.
Mr. Abe's private funeral was held at Zojoji Pagoda, Tokyo, on the morning of July 12, only with the participation of family and friends, the former Prime Minister, chaired by Lady Abe Abe.
In early September, Mr. Matsuno estimated that Japan would spend 1.7 billion yen (12 million USD) to organize the national funeral for Mr. Abe, including 800 million yen of security costs, 600 million yen.