Foreign Minister Bui Thanh Son Review the work of President Nguyen Xuan Phuc to Cuba and the US helped Vietnam improve international positions.
President Nguyen Xuan Phuc and senior Vietnamese delegation visited Cuba on September 18-12 and attended the meeting of the United Nations General Assembly in New York, USA, September 21-24.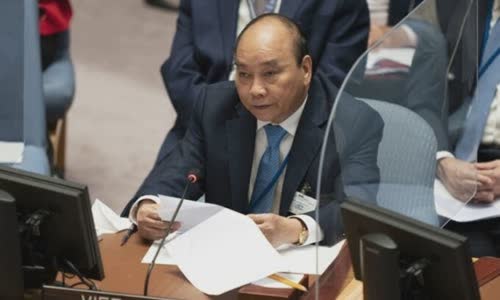 This trip has a lot of profitable meaning, achieving all objectives and provides comprehensive, comprehensive results, contributing to continuing to improve the prestige and position of Vietnam in the international arena, Ministry
President Nguyen Xuan Phuc spoke at the senior discussion of the United Nations Security Council for Climate Change in New York, the United States on September 23.
The minister shows that the trip has transmitted strong messages on independent foreign policy, autonomous, multilateral, diversification, peace, friendship, cooperation and development of Vietnam.
The visit to Cuba of President Nguyen Xuan Phuc has created a new bio-flow that promotes friendly relations and cooperation between the two countries, Minister Bui Thanh Son emphasized.
Although domestic vaccines are not enough for all people, Cuba is committed to providing 10 million doses of abdala vaccines and transferring production technology for Vietnam, immediate delivery of a million doses during a visit.
Speaking at senior sessions of the General Assembly and the United Nations Security Council and many other discussions, President Nguyen Xuan Phuc continued to affirm Vietnam that Vietnam is always responsible and positive
For more than three days in New York, the President met more than 30 heads, leaders of major international and international organizations such as the United Nations, World Bank (WB), International Monetary Fund (IMF)
The work trip also enlisted with support from the international community for Vietnam, especially in the efforts to prevent Covid-19 epidemic and recover, develop after translation.
In addition to a million doses of Vaccine Abdala Cuba transferred according to the President's specialist, many partners have committed to aid and selling vaccines to Vietnam as Korea committed to support and will deliver more than a million doses of vaccines in the middle of the month.
In addition to the vaccine, Vietnam delegation has promoted many medical items supporting partners such as Northwestern Medicine Group providing medical equipment worth 3.8 million USD, Thermo Fisher Company provides 270,000 test sets worth two million