Two Russians and one Ukrainian citizen broke into Albania's Gramsh defense enterprise, fighting when they were discovered, injuring two soldiers.
The Albanian Defense Ministry said that three suspects were arrested when they sought to invade Gramsh Defense Enterprise in Central Vietnam.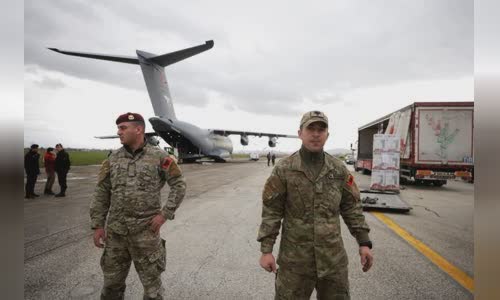 This is the basis for dismantling the old weapons of the Albanian army.
Scuffle occurred when the guards discovered and tried to prevent the group of people from breaking.
The other two suspects, including a 33 -year -old Russian woman and a 25 -year -old Ukrainian man, were arrested near the factory.
It is unclear that the engine of three people broke into the Albanian defense factory.
Albanian special forces at Our Lady of Teresa in Tirana in December 2019.
Albanian officials said the military force and employees of intelligence and anti -terrorism agencies were mobilized to the investigation scene.
According to local media, two Albanian guards being treated at the hospital and health were stable, even though they had to bandage in the eyes and most of the face.
Albania joined the NATO military alliance in 2009. The Southern European country is a popular summer tourist destination for Russians and Ukrainians.
Internal NATO began to appear divisions on how to strengthen the deployment of troops in Eastern Europe, as well as the admission of Finland and Sweden.
Since its inception in 1949, NATO has been constantly expanding to the East and once again made Russia insecure when Finland, Sweden wanted to join.