Britain imposed sanctions on six Myanmar military members, including Commander-in-Chief Min Aung Hlaing, for his role in the military coup.
"This move sends a clear message to the military regime in Myanmar that those responsible for human rights violations will be held accountable and that the government must give control to the government elected by the Myanmar people."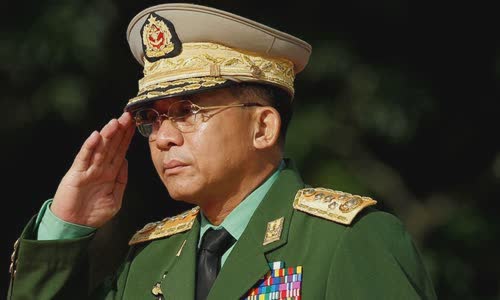 Under the new sanctions, Governor General Min Aung Hlaing, now head of the military government, and five members of the military are barred from going to Britain, while British businesses and organizations are banned from trading with them.
British aid can be used to provide indirect support to the suspended army.
The latest UK announcement means all members of the State Management Council of Myanmar (SAC) are subject to the sanctions.
The announcement comes full week after Britain punished Myanmar Defense Minister Mya Tun Oo, Interior Minister Soe Htut and Deputy Interior Minister Than Hlaing for alleged human rights violations following the coup.
Citing fraud in the general election late last year with the victory of the National Coalition for Democracy (NLD) party of State Counselor Aung San Suu Kyi, Myanmar's army on February 1 coup,
New Zealand was the first foreign government to take concrete action against the Myanmar coup, declaring a cessation of high-level military and political contact with Myanmar.
The US Treasury Department announced on February 11 that it would punish 10 of Myanmar's top military officials believed to be responsible for the coup, including General Min Aung Hlaing, his deputy, Soe Win, and four members.
The US on February 22 continued to impose a property blockade and a ban on entry to Myanmar Air Force Commander Maung Maung Kyaw and General Moe Myint Tun, two SAC members.