Japan will provide USD 106 million for Mekong countries to deal with Covid-19, along with USD 9.3 million for sustainable projects.
The announcement was presented by the Japanese representative during the 13th Japan-Mekong Ministerial Meeting, held today in an online form under the co-chairing of Deputy Prime Minister Pham Binh Minh and Japanese Foreign Minister Motegi.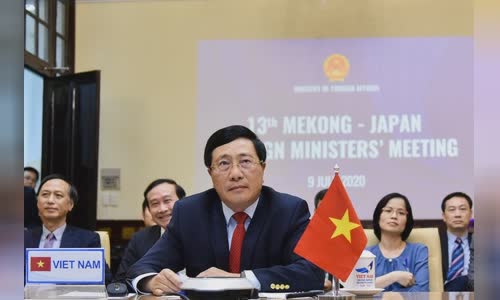 In particular, Japan will provide US $ 56 million to Mekong countries, including Vietnam, Laos, Cambodia, Myanmar and Thailand, to procure medical equipment and provide technical training for health workers.
Japan will also provide countries with Covid-19 crisis crisis assistance loans, deploying the Kusanone Mekong SDGs initiative with a total grant of 1 billion yen, or more than 9,
During the meeting, representatives of Vietnam, Japan and foreign ministers of Cambodia, Thailand, Laos and Myanmar focused on discussing cooperation in coping with Covid-19 and economic recovery measures when epidemic peaks.
The Deputy Prime Minister of Vietnam noted that the two sides should urgently implement the Mekong-Japan Initiative on Sustainable Development Goals (SDGs) toward 2030, in the context of the Mekong River basin being seriously affected by the situation.
In 2019, the Mekong's water level at many times was at record lows, thought to be due to climate change and hydropower dams on the mainstream storing water.