Five people were killed in a massive flood that engulfed the entire neighborhood of the capital Jakarta this weekend.
Sabdo Kurnianto, head of the Jakarta disaster mitigation agency, said today the city suffered torrential rains over the weekend, flooding dozens of major roads and forcing hundreds of people to evacuate.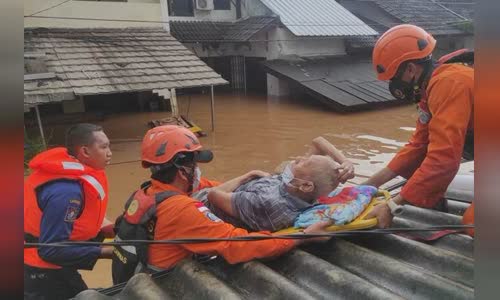 This is a modal window.
Beginning of dialog window.
End of dialog window.
A 67-year-old man died of being trapped in a flooded house south of the capital, an area badly affected.
The Indonesian Meteorological Agency warned that the Greater Jakarta area, home to about 30 million people who are frequently hit by floods during the rainy season, is likely to experience torrential rains next week.
"The river was overflowing, carrying a lot of mud, causing me great damage," said Ali Fatullah, a fruit vendor in the town of Bekasi, a suburb of Jakarta.
Kurnianto said about 1,700 people are still in emergency evacuation.
Last January, Jakarta suffered one of the most devastating floods in years, when heavy rain caused landslides that killed at least 67 people.