Having been highly appreciated for its neutrality, Finland changed its views, committed to supporting Ukraine to confront Russia and seek to build a position in NATO.
In the 1960s, Finnish families often store indoor foods with the common point of view that people should be ready for a conflict that may break out at any time.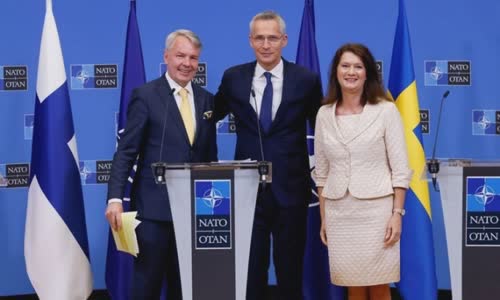 Now, 6 months since Russia launched a special military campaign in Ukraine and Finland about to join NATO after decades of neutral maintenance, many people in the country are resuming the habit from wartime from wartime.
Finnish Foreign Minister Pekka Haavisto (left on the left), Swedish Foreign Minister Ann Linde (rightmost) and NATO Secretary General Jens Stoltenberg at NATO headquarters in Brussels, Belgium, July 5.
My mother was very careful when doing it, there was always more food and reserve in the house, Foreign Minister Pekka Haavisto said in an interview.
The people of the Nordic nation have long been able to store food and necessities mainly due to the mentality of preventing the Russians, after the catastrophic battles between the two countries in the early 20th century.
We always focus on security, Mr. Haavisto speaks at the Ministry of Foreign Affairs Office.
Finnish people always try to build and train strong military forces to be ready to cope with the huge neighboring country in the east have the same 1,300 km of border.
Officials say that the decade experience they accumulated when preparing for the scenario of conflict with Russia made Helsinki a major NATO property.
During the post -war period, when many countries have developed their armed forces towards peaceful support activities, we did not follow that path, General Timo Pekka Kiviva, Tu
The country has regulations for men and women to volunteer to participate in military service.
Before deciding to join NATO, Finland bought the US-made F-35 stealth fighter.
General Kivinen also emphasized the army's fighting experiences in the Arctic environment and the years of operation in the airspace bordering the Russian border as a potential contribution to NATO.
We are a security party, he said.
Helsinki's quickly turned to NATO, which was hard to imagine a few years ago, surprised many people at home and abroad.
In 6 months, the neutral support rate has decreased from 50% to 20%.
If last year someone asked Finland to apply for NATO to join NATO or not, I would say that it was very unlikely or there was something very serious forcing us to change the view, Mr. Haavisto said.
Along with applying to NATO, Helsinki also claimed to support Ukraine in a conflict with Russia.
Secretary of State Haavisto has welcomed the recent agreement with Russia to allow Ukraine's cereal exports, emphasizing that it is a little light at the end of the tunnel.
For the process of joining NATO, Finnish officials said they did not expect any instant change to the country's army.
It may take several years for us to adapt to NATO's military structure, General Kivinen.
However, in the short term, joining NATO will help Finland to ensure security according to Article 5 of the Union, requiring members to support allies if attacked.
But so far, Finnish officials said that Russia has not reacted by any military measures.
Although most of the military cooperation between Helsinki and Moscow has been cut off since 2014, when Russia merged the Crimea peninsula, the two sides often exchanged to resolve the risks of air and sea conflicts, according to the sea, according to the sea, according to
Even when preparing to join NATO, Helsinki continues to prepare for the scenario of conflict with Moscow, as they have done for decades.
If you arrive at Hakanemi subway station, you can see the largest Bomb tunnel of Finland, where a large number of population can be safe if shelter there, Secretary of State Haavisto said.
The Foreign Minister Haavisto's family has also returned to the tradition of food reserves to prevent conflicts.