The separatist said the Lugansk militia and the Russian army crossed the Severskyi Donets, opened the attack from the north to surround the city of Lysychansk.
Units of the People's Republic of Lugansk (LPR) and the Russian Army crossed the Severskyi Donets River near Severodonetsk, who successfully developed the advanced nose in northern Lysychansk, Andrey Marochko, representative of LRP militia forces, said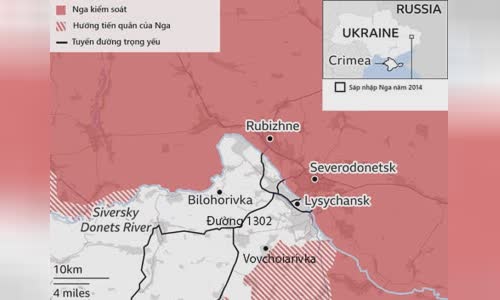 This is a modal window.
Beginning of dialog window.
End of dialog window.
The attack from the North will form a new pincer, combined with the attacking squad from the South to close the siege with Lysychansk.
LPR officials had previously claimed that the militia had completely controlled the refinery near the town of Vovcholarivka in southern Lysychansk and was deeply thrown into the city.
The Governor of Lugansk Serhiy Gaidai said Lysychansk is facing an extremely difficult situation.
The battlefield situation in Lugansk, eastern Ukraine.
Lysychansk was the last large city controlled by Kiev in the Eastern Lugansk province, after Ukrainian units withdrew from the city of Severodonetsk across the Severskyi Donets.
Russia reached out in eastern Ukraine in part due to the overwhelming electronic warfare capability, like an invisible assassin that paralyzed the opponent.
The convenience of Donbass helps Russia reverses the battlefield and is at the most advantage after 4 months of fighting in Ukraine.