Wickremesinghe was elected Sri Lanka's new president, but he may not be able to bring the country to overcome crisis, according to experts.
Ranil Wickremesinghe, who used to be Prime Minister Sri Lanka 6 times, took office today with the support of the majority of MPs in the National Assembly.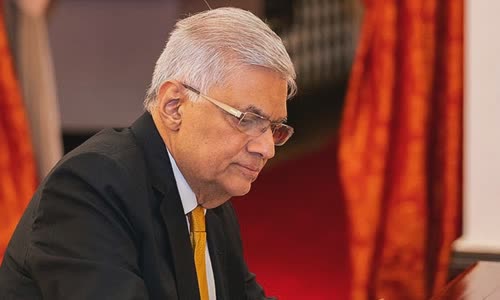 However, Andrea Malji, Associate Professor of International Studies specializing in South Asia at Hawaii Pacific University, USA, is not too optimistic about the future of Sri Lanka under President Wickremesinghe.
Mr. Wickremesinghe is considered a continuation of the past.
Mr. Ranil Wickremesinghe in Colombo, Sri Lanka, on 12/5.
Experts believe that the core cause of Sri Lanka to the current crisis is the policy of foreign borrowing too much through the leaders of the Rajapaksa clan.
Taking power after the civil war ended in 2009, Mahinda Rajapaksa advocated borrowing a lot from the outside to invest in building infrastructure.
Mr. Mahinda's goal is to cover war costs and develop infrastructure to attract tourism.
After Gotabaya Rajapaksa, Mahinda's younger brother, came to power in 2019, the Sri Lanka government continued to borrow debt, and implemented tax reduction policies, instead of conducting economic reforms to increase budget revenue.
In February, Sri Lanka announced that the country had US $ 2.31 billion in foreign currency reserves, while having to pay about US $ 4 billion in debt this year.
Sri Lanka falls into chaos caused by self -economic wounds and serious fluctuations of the international market, Cullen Hendrix, senior member of the International Economic Institute Peterson and Professor of the Josef International Research School.
Professor Hendrix said that the Rajapaksa clan has swung foreign debt, especially from China, pushing the nation into debt.
The economic crisis pushes the lives of the people of Sri Lanka into deprivation and misery, sparking a wave of protests throughout the country, leading to a serious political crisis in the South Asian country.
It is too early to talk about the future of Sri Lanka, but in the short term, the country will continue to experience many difficulties and instability.
Sri Lanka's future orbit depends on whether the International Monetary Fund (IMF) and the international community will be through the country's relief packages, according to Malji.
Neil Devotta, Professor of Politics and International issues at the University of Wake Forest, who grew up in Sri Lanka and an expert on South Asia, also said that Sri Lanka could not escape the economic crisis if if
Devotta believes that Sri Lanka will need a large, long -term economic reform and to do that, the government will have to restructure foreign debts.
IMF will not give Sri Lanka so they can pay debts to China or any other entity.
A wholesale market in Colombo, Sri Lanka on July 18.
But observers believe that to solve foreign debt, Sri Lanka will need to solve the problem about the political crisis first.
You will not be able to ask the international community to help if domestic politics is not stable.
Experts say this is a challenging problem for President Wickremsinghe.
According to Malji, when President Gotabaya Rajapaksa was appointed as the Prime Minister in May, Wickremesinghe became part of the predecessor.
He did very little to challenge the policies of the Rajapaksa government.
According to this expert, President Wickremsinghe will be difficult to ease the concern and anger of the Sri Lanka people without implementing drastic policies to quickly resolve political frustrations, including proposals.
When appointed as President Gotabaya running abroad, Wickremsinghe repeatedly issued an emergency nationwide and threatened to apply tough measures against those who want to overthrow the government.
Observers said that with such a drastic policy, President Wickremsinghe will be difficult to build a national solidarity to solve the country's economic and political problems.