Leaders of EU countries will discuss how to deal with energy price increases due to Ukraine conflict, after months of controversy and disagreement.
Leaders of the European Union member (EU) today summit in Brussels, Belgium, in order to find a common solution to deal with the energy crisis as well as more support for Ukraine.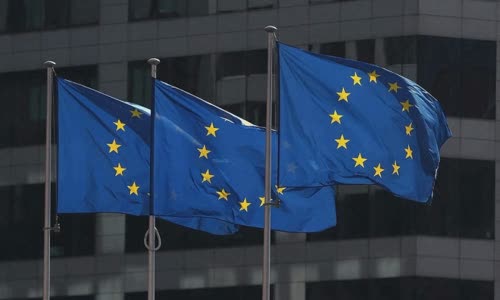 The conference took place in the context of the 27 EU countries that have argued for months on energy discount measures without finding a common voice.
7 months of delaying the decision to apply the price of Russian gas ceiling that made us fall into a recession, Italian Prime Minister Mario Draghi spoke at a meeting with European leaders earlier this month.
The European Commission (EC), the EU executive agency, has sought to reconcile the different views of member countries with many proposals that they hope to help European people pay for heating expenses.
The EC proposed the idea that allows EU huge energy corporations to buy gas to negotiate a cheaper price.
The EU flag outside the European Commission headquarters in Brussels, Belgium in 2019. Photo: Reuters.
A senior EU diplomat said members have made great progress in negotiations, but have not achieved basic breakthroughs.
It was uncomfortable to see how slow Europe responded and difficult by the challenge we face, Spanish ecological conversion minister Teresa Ribera said before today's summit.
Some countries are calling for exception to European gas price mechanism.
Russian Energy Group Gazprom last week warned the plan to pressure Russian gas ceiling will cause the supply to be completely cut, causing a great impact on the global energy market.
Russian President Vladimir Putin in September threatened to cut the supply of energy with countries that decided to impose a bare gas price, and warn the West that they would be frozen.
According to experts, the reduction of supply from Russia, the second largest oil exporting country after Saudi Arabia and the world's leading natural gas export, will wobble the global energy market, making the price of energy.
The European Commission proposes a series of energy price control measures to skyrocket in Europe and impose ceiling price with Russian gas to squeeze punishment.
Proposing the price of Russian gas ceiling ceiling offered by the EU as a way to curb Moscow's revenue, while controlling regional energy prices.
France and Italy criticized the German consumer protection plan, saying that Berlin's move raises a question about fairness.