The Russian Ministry of Defense announced the raid 5 headquarters of the Ukrainian army in the East and the South, and accused the opponent to artillery territorial.
Russian Ministry of Defense spokeswoman Igor Konashenkov on September 17 announced that missile, artillery and air force units raided five Ukrainian army command facilities in Piskunovka, Siversk, Novoukrainka, Artemivk in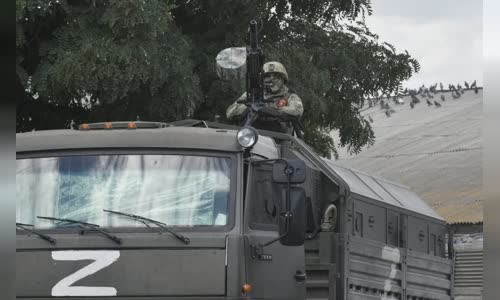 According to Konashenkov, 4 Ukrainian missiles, artillery and ammunition warehouses were destroyed near Zolochev settlements in Kharkov, Kirovo in Donetsk, Omelnik and Veselyanka in Zaporizhzhia.
Konashenkov said Ukraine opened an attack near Pravdyne in Kherson province but failed, more than 120 Ukrainian soldiers were lowered, 7 tanks and 13 transport vehicles were destroyed in the battle for a few hours.
Russian soldiers in Melitopol, Zaporizhia, southeastern Ukraine, on July 14.
Russian officials said the Ukrainian military has organized many ambush cases today in Horlivka and Donetsk City in Donetsk province.
Russia accused the enemy shelling the Krasny Khune residential area in the country's Belgorod border province, killing one and two injured.
The Ukrainian army has not commented on the above information.
The Russian Defense Ministry also accused Ukraine for continuing to shell near the nuclear power plant in Zaporizhzhia on September 17.
The International Atomic Energy Agency (IAEA) said that the Russian -controlled Zaporizhzhia factory was reconnected to the Ukrainian grid, two weeks after it was disconnected.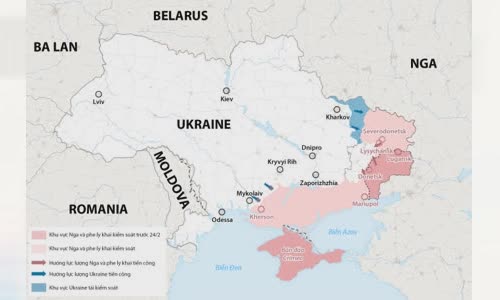 Although 6 reactors at Zaporizhzhia have stopped operating after the shelling that Russia and Ukraine accused each other, the fuel in them still need to be cooled to avoid the disaster.
The Ukrainian army recently opened a quick counterattack in Kharkov province, the Northeastern region of the country, announcing a re -control of 6,000 km2 of the territory since the beginning of September.
The US -based war -based war assesses that Ukraine turns the situation in the direction of their benefits, but the current counterattack cannot end the battle.
Russian President Vladimir Putin said on September 16, the battlefield was basically unchanged and the military did not want to act in a hurry.
The Ukrainian battlefield situation after more than 6 months of fighting.
After Ukraine's counterattack in Kharkov, Russia could mobilize forces to respond, or increase missile ambushes and put diplomatic pressure.
General Oleksandr Syrsky was the one who proposed a plan to open a surprise counterattack into Kharkov, where he realized as a weak link in the Russian room.